FOOD

-

COMMISSION

: This Cafe Is Essentially Real-Life Clickbait June 5, 2016
Today my work was published on Broadsheet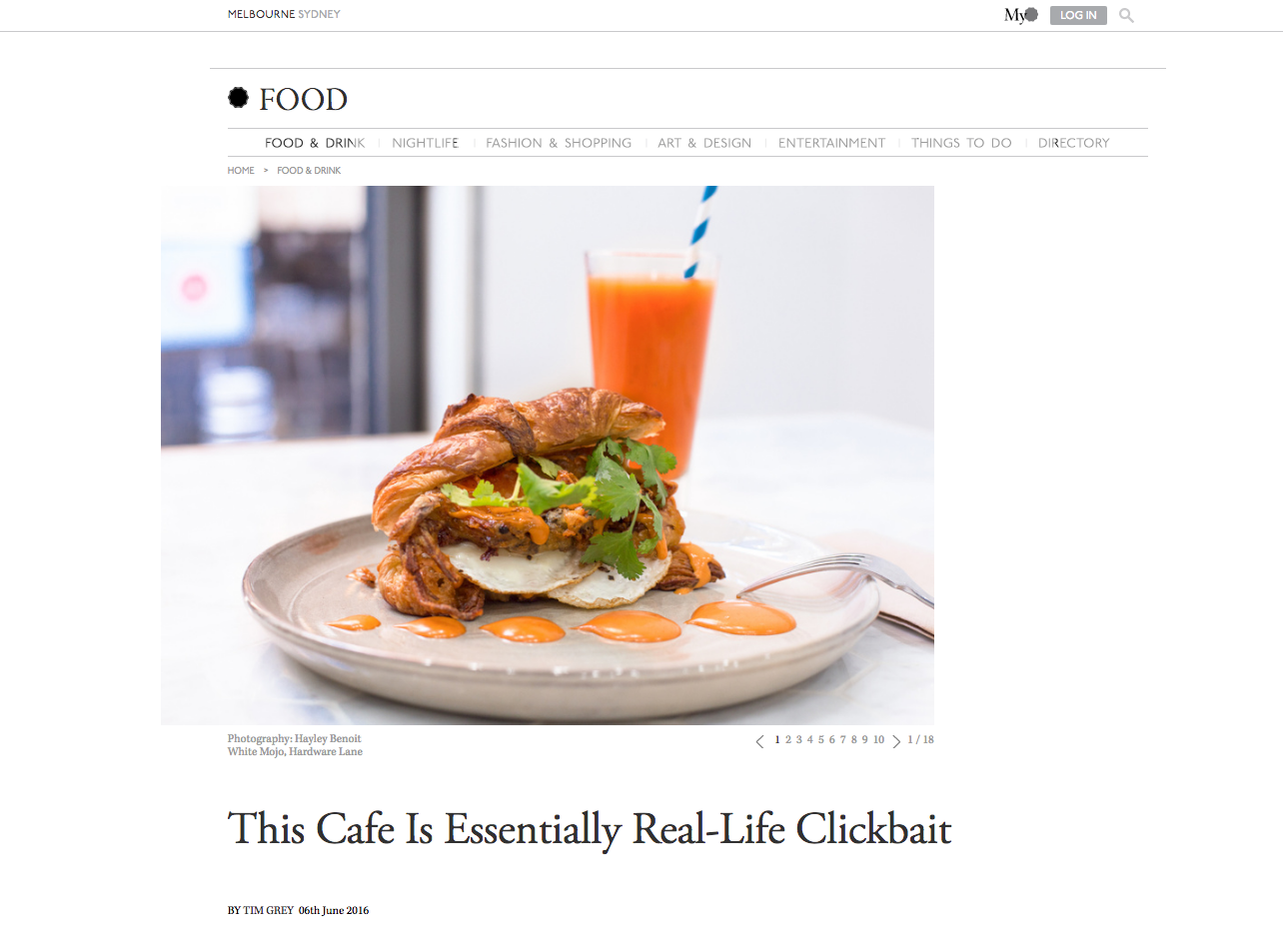 Photography: Hayley Benoit
WORDS BY TIM GREY 06th June 2016
We've been hurtling towards this moment for some time.
To paraphrase Catalan theorist Joan Fontcuberta: "I 'gram, therefore I am." Nary a meal is eaten in this town without first being hovered over with an iPhone 6. It's a maxim cafe entrepreneur Ben Luo was keenly aware of when designing the menu for his new venue on Hardware Lane, White Mojo. "It's very, very important," says Luo. "The target customer is a pretty young age, and everyone's got Instagram. It's pretty much the best way to let people know about us and what we're doing."
This guiding principle of 'grammability informs every dish. The "croissant burger", stuffed with deep-fried soft-shell crab, pickled cucumber, spicy mayo, smoked eel and fried eggs, provokes that immediate WTF response essential for going viral (figuratively, not literally). A cauliflower panna cotta with chorizo dust, Canadian scallops, 63-degree eggs and potato popcorn is served under a bell jar, billowing smoke over diners once the cover is removed. "They can open it themselves, they can record it, they can share it with a friend, Snapchat," explains Luo.
Likewise, White Mojo's Hulk-green matcha lattes are very much of their moment. Sourced from Uji in Japan, the powdered tea is ground on a traditional stone mill. "The matcha we get is very different to what most other people are using in Melbourne; it's pretty much the best grade we can find," says Luo.
Being less inherently visual and, ultimately, brown, the coffee situation's more suited to a Twitter update: "House-roasted Sumatran coffee beans, 75 per cent natural, 25 per cent washed, make so-called Single Origin Blend @whitemojocafe."
Design-wise, White Mojo is the bright ying to its sister-cafe Hash Specialty Coffee's dark yang, with marble tables, honeycomb tiles and honey-blond wood.
So successful has the White Mojo playbook been that after only six weeks in business, the cafe's already opened a second outlet in Balwyn, with a similar menu and fit-out. "It's where I live, and I find there's not that much food and coffee," says Luo. "So we tried to offer the locals something really different."
White Mojo
115 Hardware Street, Melbourne
182–184 Whitehorse Road, Balwyn
(03) 9078 8119
Hours
Mon to Fri 7am–4.00pm
Sat to Sun 8.00am–5.00pm