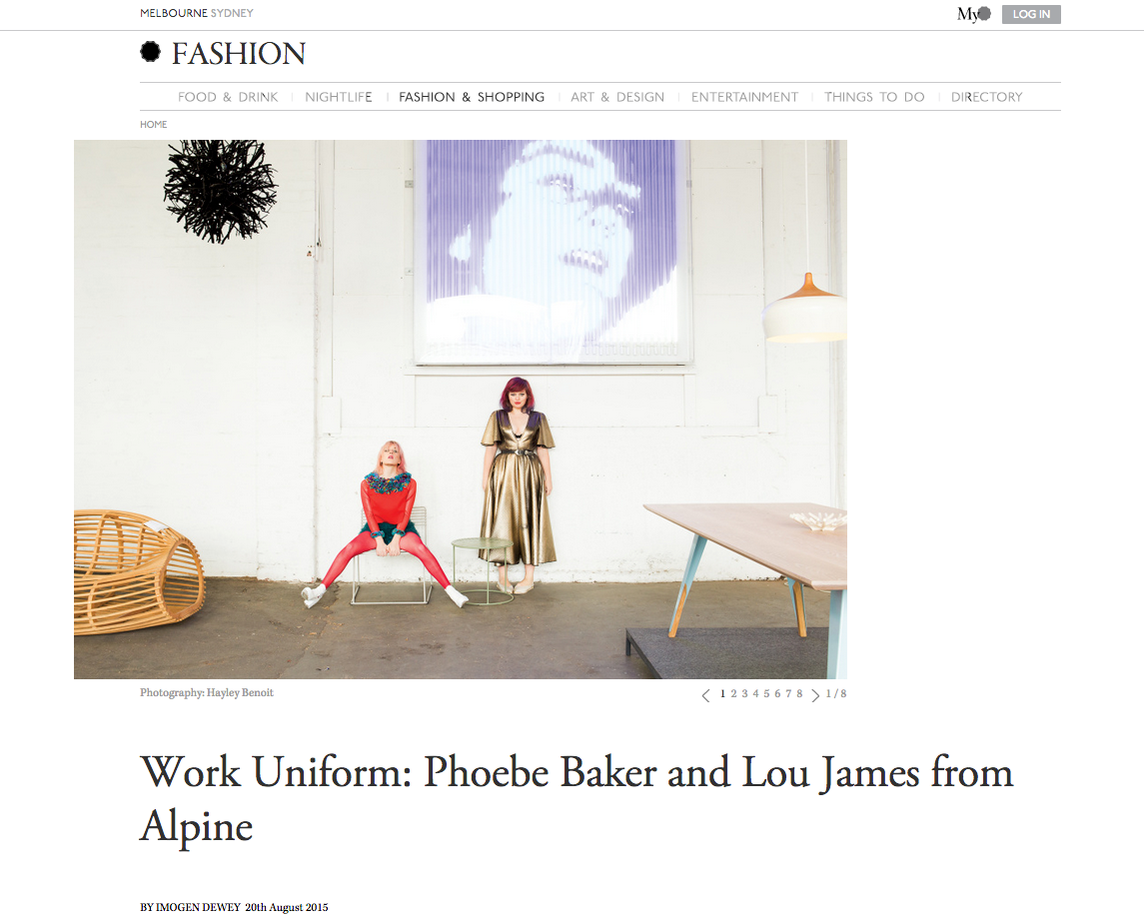 Work Uniform: Phoebe Baker and Lou James from Alpine

BY IMOGEN DEWEY 20th August 2015
http://www.broadsheet.com.au/melbourne/fashion/article/work-uniform-phoebe-baker-and-lou-james-alpine
We talk to the local front women about the Spice Girls, designing jumpsuits and going nude.
The buzz around Melbourne band Alpine's 2012 debut album, A is for Alpine, went global, from Pitchfork to Jimmy Kimmel. Its sophomore record, Yuck, released this year, is on high rotation around the country.
Alpine is definitely getting to, in their words, "That point where people start to recognise you." But lead singers Phoebe Baker and Lou James still seem most excited about having a constant excuse to dress up.
Broadsheet: How would you describe your style?
Phoebe Baker:Your onstage style is the alter ego of your offstage style. There are particular styles in time that I've admired – one that stands out is the '60s and '70s, those jumpsuits. They just look so comfortable and cool. They're my favourite things in the world to wear; they're practical and fun. They feel strong and a bit funny – and lazy. We're both a bit lazy.
Lou James: I don't really like to follow trends, I find that really boring. I think Melbourne's very safe, and it's frustrating. Sometimes it's exciting to have different-coloured hair or wear something weird.
PB: We're not very fashionable.
LJ: But there's a sense of freedom and release with that. It's not like, "Oh, are people going to think this is in?" A lot of it's not in. But we're comfortable.
BS: What influences your performance-wear?
LJ: It's a matter of what we're into and how we're feeling.
PB: Costumes are expensive. It's a difficult resource to tap into, so my mum made a lot of our initial outfits and still does. Back in the '60s she worked in the costume department for a London theatre company – now she kind of gets to do it for us.
LJ: I also reached out on Facebook, and this guy suggested his sister, Juliet Bennie. We're helping each other in a creative way; she's getting more exposure and learning more, and we get to wear some crazy stuff.
BS: Tell us about your favourite pieces.
LJ: Right now it's this overall dress. I got it for $20 and its got big pockets. I work in it, ride my bike, and just feel super comfortable. Phoebe's mum made me an outfit which I wore on Jimmy Kimmel. It's off-the-shoulder with these big puffy sleeves – I look like an Edwardian duke. It's great because it was designed with her so no-one [else] owns it. I feel otherworldly in it.
PB: There's one jumpsuit that has apples all over it. I wear it onstage and offstage and just love it. It feels great to wear fruit. That design came from The Sound of Music: a sleeveless dress that Maria wears in a hessian colour. I thought the top of that dress would make a great top of a jumpsuit.
BS: Any musical style icons?
PB: We both used to love The Spice Girls. To be inspired at such an early age by five women who are dressing extravagantly in these crazy '90s outfits – that started it. Then it was David Bowie, Kate Bush and Todd Rundgren, this glam thing that was going on. I'm into unisex style. But I do like dresses as well. I'd like to wear an Edwardian dress with a bustle. I have these dreams of wearing extravagant clothing and the stage is where I get to do that. But it's difficult to get stuff: where do I find an Edwardian dress with a bustle I can wear on stage, that's also a jumpsuit?
LJ: I'm inspired by people like Bush, Bowie, and Grace Jones; [performers] who use the stage as a platform to be whomever and whatever they want. And from performing it becomes part of their everyday lives. When we went to the States, places like LA and New York, people just wear whatever.
PB: London as well, I always found really liberating. There were always people wearing wild outfits and having a lot of fun with it.
LJ: It's great once you know what works on your body, and what things you're inspired by. If I went to Japan I think I would die and go to heaven, I'd just want everything.
BS: Do you have something in mind, when you get dressed everyday?
LJ: Nope. Oh, performing sometimes. I like to have lots of options for stage outfits, to try and reflect exactly how I'm feeling. Once you're on stage you should feel 100 per cent confident and empowered to express your art and share it with everyone.
PB: When you're comfortable, then you can forget about the outfit (or work with and have fun with it).
BS: Do you dress differently for a festival show than a stage show?
LJ: There's something about a festival, because everyone else dresses up too. I always look forward to wearing something a little bit more out there.
PB: Festival audiences are more willing to escape with you and go on whatever adventure you're going on, whereas at a gig in the city you have to work hard to help everyone get there.
LJ: We try very hard with that. We're a very visual band and we like to dress up – it's about making people feel as comfortable and free as we do. Phoebe and I [studied] theatre together, and something about creating that world on stage and having people come with you is really amazing.
PB: We're still learning from it. Maybe next year we wont wear jumpsuits, and there'll be no makeup or glitter.
LJ: Maybe we'll be naked.
PB: [Laughs] Maybe we will just … be naked. People will definitely come on that journey.
Alpine was photographed at the old Tongue and Groove showroom in Fitzroy. Yuck is out now.