Last week Foto Femme United featured me in one of their articles, for the full article please check it out here.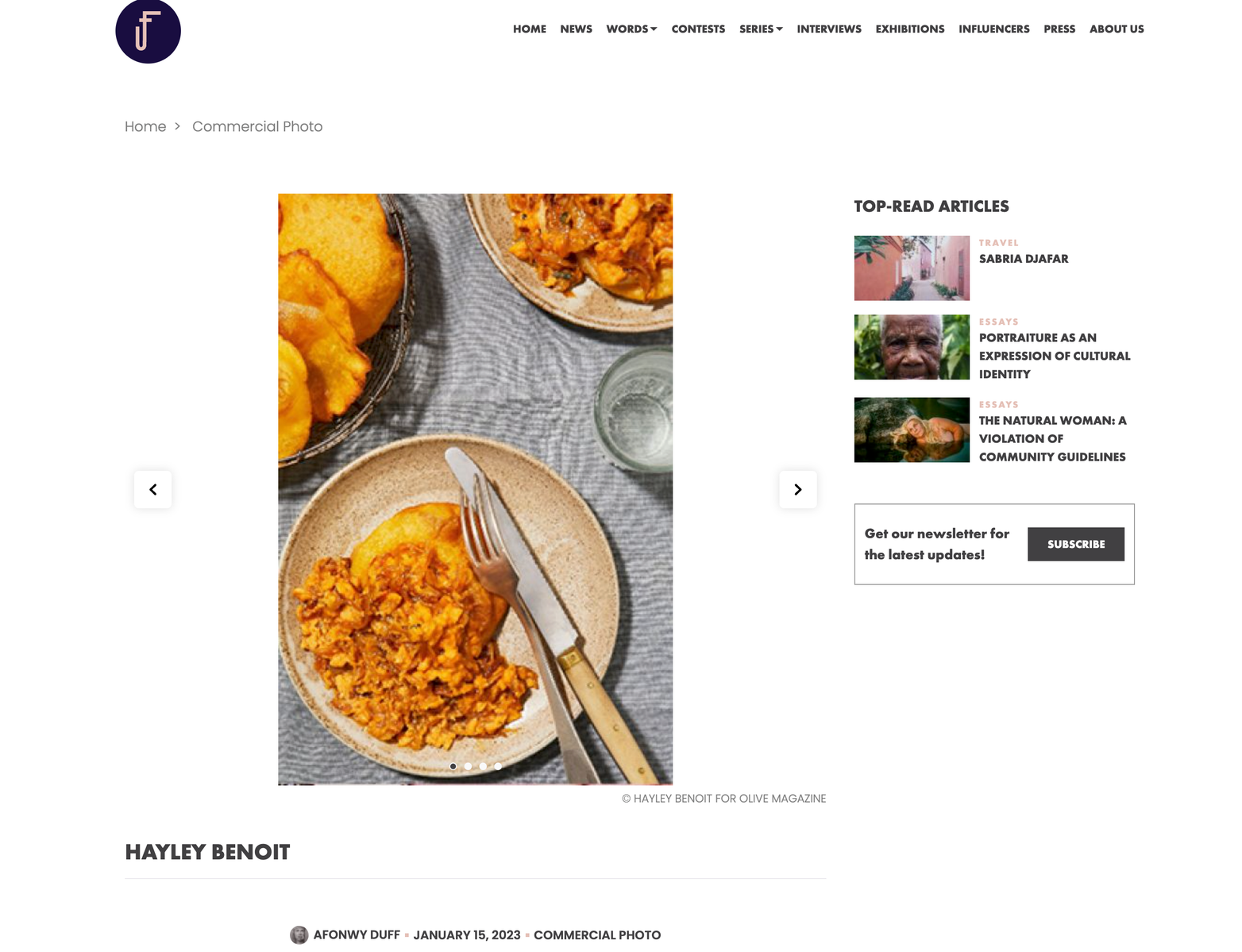 HAYLEY BENOIT
WRITER: AFONWY DUFF
DATE PUBLISHED: JANUARY 15, 2023
Welcome to the sumptuous world of Hayley Benoit (@hayleybenoit). Her delightful and decorated work has graced numerous galleries and near-countless pages of print. With just over a decade of experience under her belt, Benoit has amassed clients of a calibre most commercial practitioners could only dream of, including: I-d Magazine, Disney, Nike, the BBC, Lucasfilm, and The British Journal of Photography. Benoit's easy and eclectic approach is highlighted within her diverse portfolio that, no doubt, affords her the option to pursue an array of impressive and exciting opportunities.
Amongst her vast clientele is Olive Magazine, a British food magazine with a laid-back approach akin to that of Benoit. The magazine focuses on accessible, and achievable cooking with a broad target demographic. Benoit's work sits splendidly within this brief due her delicate balance of stylisation and simplicity. It is impossible to dislike her images, which fold-in visual trends with a sufficiently recognisable house-style. The latter ingredient containing enough subtle signifiers to remain commercially viable, yet still spare us the crumbs of cliche.
So as not to decontextualise past the point of deliciousness, Benoit's work combines technical lighting with casual staging to separate precision from pretention. Benoit's imagery is digitally sharpened to create a pop art-esque abstraction of the otherwise banal subject matter. The use of bold colour, segmentational staging, and exaggeration of dark outlines flirts with the concept of retro-style restaurant art whilst grainier, more muted renditions harken to something slightly more personal. It is upon the scraped plaster and creased linens of her latter work that we see the familiar forms of home-cooked dishes torn from the dry, matte paper of mum's old cookbooks. With just a pinch of noise, Benoit's apt approach communicates a deep, rounded, richness that offers comfort alongside creativity.
Using flash on food is no small feat, too little and you're underexposed, but too much can truly turn the dauphinoise into the dog's dinner. In short, harshly shadowed, high contrast confections come off uncanny. Continuous lighting is often preferred within the genre for it's more forgiving nature. Conversely, Benoit defies convention and dares to demonstrate the effective nature of hard lighting in regard to both texture and form. How else could we distinguish each crack and crevice of a corn on the cob: equal parts buttery and grill-burnt?
Indeed, in the age of 'personal branding' in which we find ourselves, a portfolio that spans all, or as many commercial disciplines is essential. Benoit exhibits the rare ability to construct corporate imagery with humility and genuine relatability. It takes and incredibly skilled director to illicit a relaxed and natural impression within such technically rigid work. When we observe her wider portfolio, we see an empathy that can only allude to the integrity of Benoit's character. Her work highlights the importance of perspective and personality within the commercial sphere. It appears that she has mastered the perfect recipe of purpose, praxis, and positivity.
Hayley Benoit (b.1988) is a London based photographer specialising in Portrait, food and lifestyle editorials for social and branded content. She has worked on film, tv and commercial productions; including a feature film at Lucasfilm and Disney where she worked as a Unit Stills and Portrait Gallery Photographer.